Looking to create a next-level experience for your guests? One easy way is with outdoor cabanas. Cabanas offer guests privacy and comfort while adding a bit of opulence to your hotel, resort, or spa's outdoor space. At Pool Furniture Supply, we consider our outdoor cabanas the ultimate "de-stress and impress" resort amenities because they make your guests feel like celebrities.
Poolside cabanas not only create an epicurean retreat, they also protect guests from the sun. Unlike umbrellas that provide minimal shade and must be constantly moved, cabanas offer 360-degree protection from the elements. Their commercial-grade frames and marine-grade fabrics stand up to high winds, intense sunlight, and rain.
Pool Furniture Supply has several styles of cabanas to choose from – depending on your space and the vibe you want to create – to help you achieve the quintessential guest experience.
Cabanas that are easy to install and break down
Our 10 x10-foot Deluxe Portable Tent Cabana provides the look you want with the portability you need. It features adjustable, telescoping legs and aluminum ribs for quick setup and takedown, but don't let the flexibility fool you. This commercial-grade cabana is built to last and has anchor footplates with predrilled holes for optional surface mounting. Its roomy under-canopy space can accommodate a loveseat and side table, or multiple chaise lounges, making it an inviting spa-like retreat. You can choose from over 40 fabric colors with the option to mix or match your canopy and curtain colors. The curtains come with Velcro tiebacks and convenient zipper closures for added guest privacy.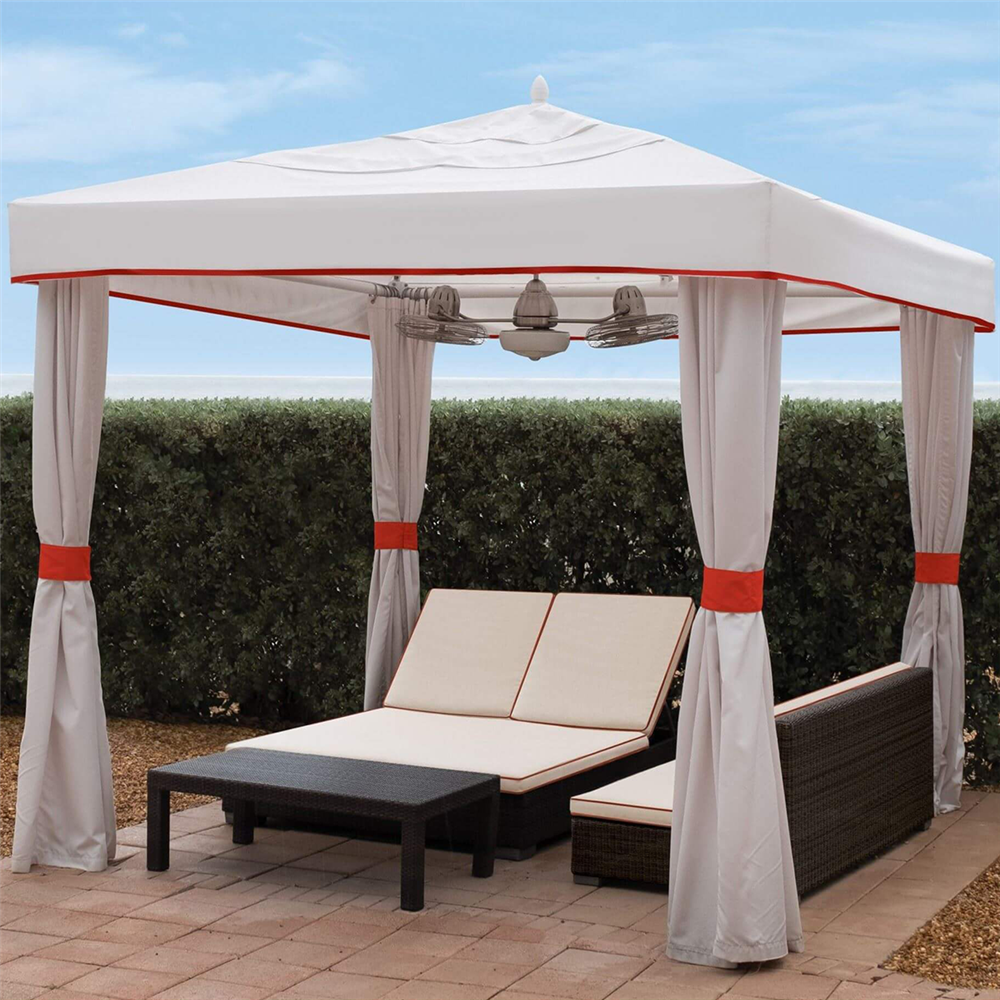 Glamorous cabanas for a great price
Pamper your guests without breaking the bank with our Pacifica Cabana. Available in three sizes, this beautiful covering enhances any outdoor space. The frame is constructed of steel which is plastic-coated in your choice of black or white, while the canopy and curtains are made from either Sunbrella or Firesist marine-grade fabric, both of which resist staining, fading and mildew. Surface-mounted steel base plates keep the cabana from moving – even with wind speeds up to 60 mph! The Pacifica Cabana is an all-around winner that delights your guests, saves you money, and stands up to the elements for long-lasting use.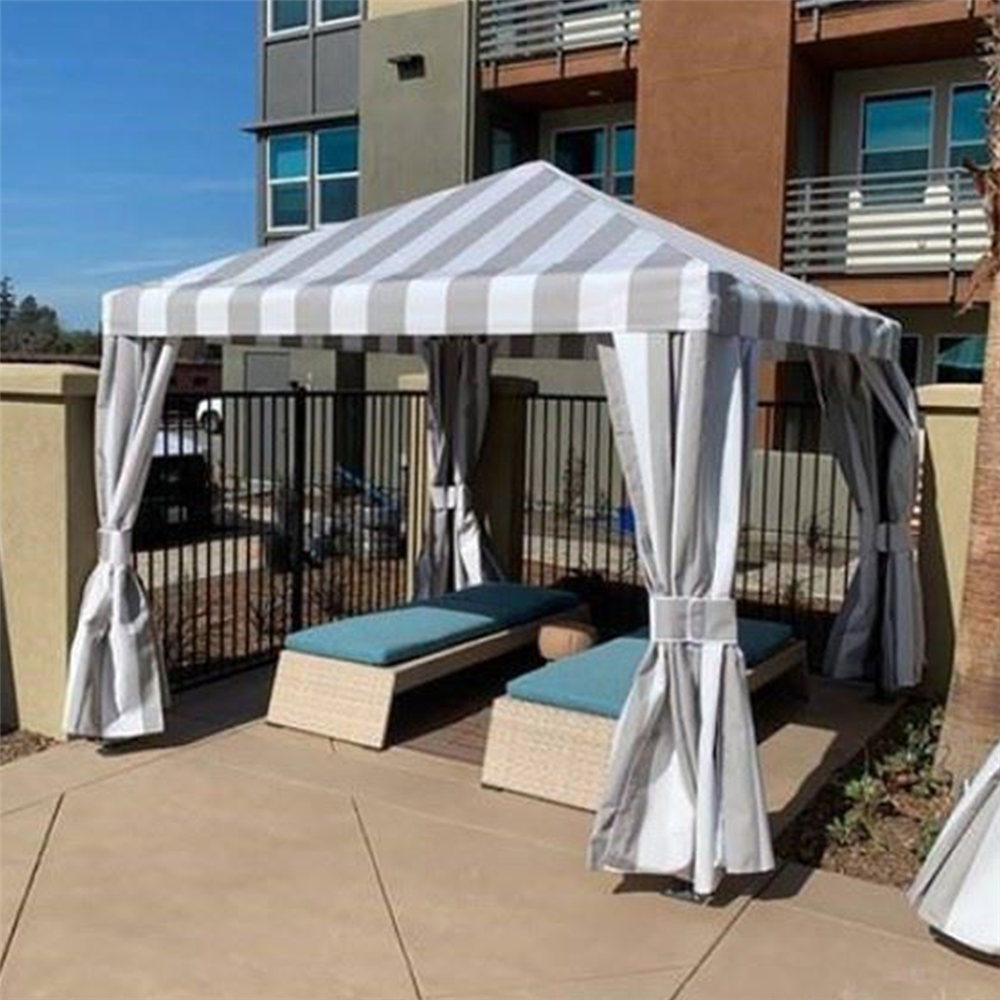 Cabanas with an added pinch of panache
Dress up your poolside with the Wailea Cabana and you're sure to impress! A gorgeous three-inch accent stripe provides added elegance to this cabana and highlights the space within it. We offer a wide range of fabric colors so you can create the perfect color combination of curtains, accent stripes, and tiebacks. Go for bold accents or subtle shades – the choice is yours! Traverse cables allow guests to move the curtains with ease and heavy-duty zippers give them the option to close the curtains completely.
The commercial-grade steel frame is finished in your choice of black or white polyester powder coating and has been factory-tested to endure up to 60 mph winds. When secured with its straps, buckle fasteners, and base plates, this cabana isn't going anywhere. But, if you need to break it down, its flexible design lets you do so in minutes. The Wailea Cabana has multiple customization options including additional canopy sizes, air vents, fan mounts, and higher wind ratings, so you can create the perfect space for your needs.
An all-in-one cabana and lounger
Guests won't want to leave once they've experienced this incredible Daybed Cabana by Ledge Lounger. This all-in-one cabana includes an adjustable, two-person daybed and cocktail table surrounded by an attractive wall design and mesh canopy cover. Ledge Lounger offers seven different wall designs to produce your desired effect. Create a Mediterranean feel with the Greek Key design, an artful look with the Diamond design or, for a more modern style, choose the Herringbone design. You can also forego the walls and choose to cover the entire cabana in mesh for a more intimate setting.
The cabana's stunning look is sure to attract guests, but it's the reclining daybed that will make them never want to leave. Each oversized daybed has five reclining positions with comfortable fabric cushions offered in an array of solid and striped colors. Alongside the bed is a 12x26-inch cocktail table to keep everything they need within reach. The Ledge Lounger Daybed Cabana provides an amazing outdoor sanctuary for hours of enjoyment and relaxation.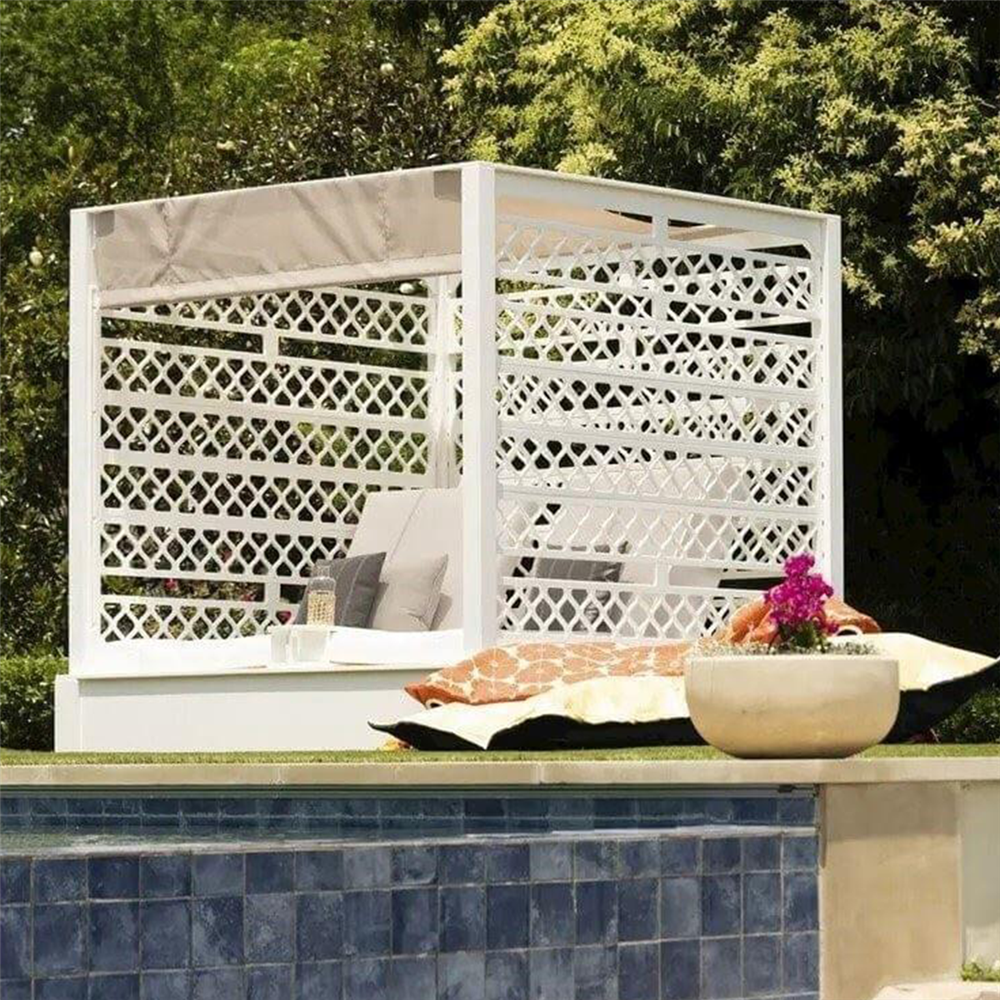 Beach cabanas
Accommodate guests on the beach with a portable, no-hassle cabana solution. The Beach Cabana by FiberBuilt is a spacious fabric and aluminum frame shade structure that fits two standard chaise lounges side by side. Mounting brackets on the feet help keep the cabana anchored into the sand and a woven mesh back panel creates air circulation and wind resistance. We've got a wide range of canopy colors to choose from, and all are made of marine-grade, solution-dyed acrylic fabric from two of the best fabric manufacturers in the industry – Outdura and Tempotest.
If your resort offers access to the beach, then our beach cabanas are a must! More spacious, protective, and structurally sound than beach umbrellas, beach cabanas offer more bang for your buck.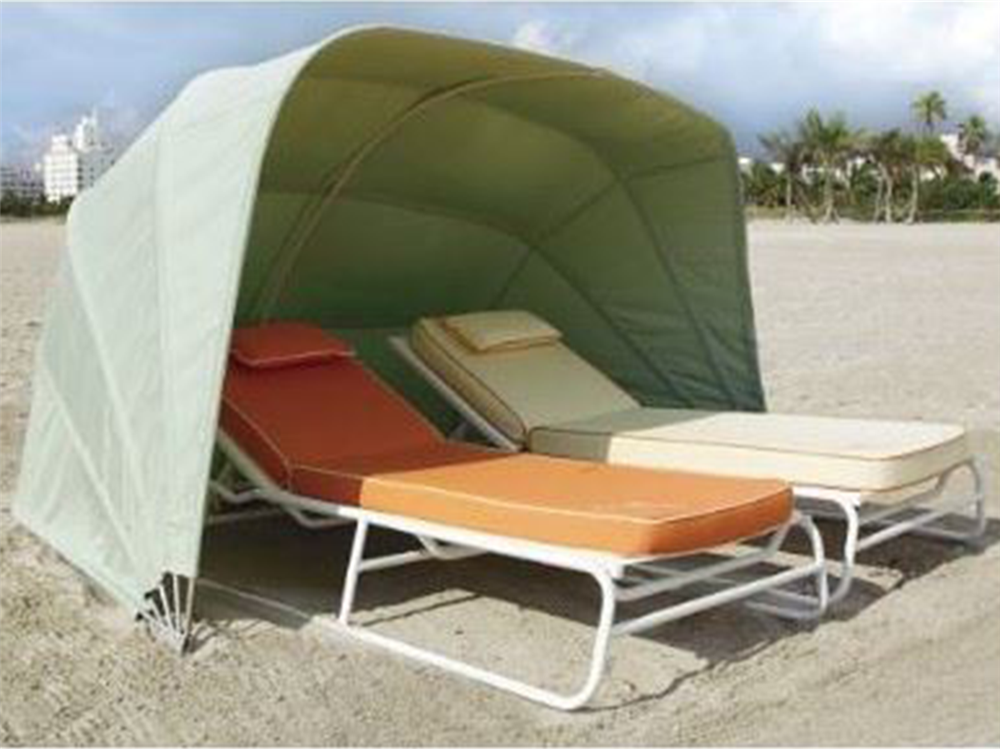 Before you place your cabana order, be sure to complete your cabana space with comfy seating arrangements like chaise lounges, sunbeds, pillows, and side tables. Need help finding the right pieces to go with your cabana? Give one of our pool furniture experts a call at 1-877-646-6320 and we'll be glad to assist you.

At Pool Furniture Supply, we're proud to say our cabanas and other pool furniture are made in the USA and backed with commercial warranties. We stand behind our products, our suppliers, and their craftsmanship – and we know you will be extremely satisfied with your purchase.