Our customers create wonderful water park and poolside environments for their guests and we're proud to say we play a small role in helping them build that experience. At Pool Furniture Supply, we provide water parks, hotels, resorts, HOA communities, and many other establishments with all the poolside furnishings they need, in designs and colors to match their surroundings. When you combine great pool amenities with comfortable furnishings and attentive staff, the result is a memorable experience guests will want to rave about with friends, family, and even people on the internet.
"I can't express how nice this place is! It's been a well-kept secret, I guess, but it's terrific!"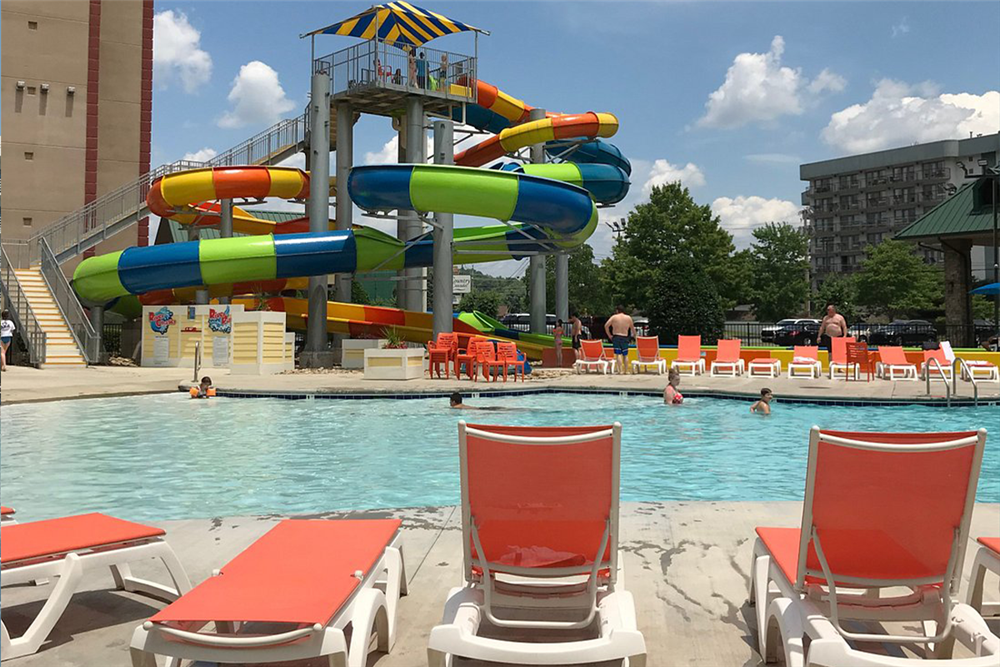 One of our clients, a water park resort in Pigeon Forge, Tennessee, receives glowing reviews for their outdoor amenities and attentive service. They have dozens of lounge chairs surrounding their pool area so parents can keep a watchful eye on their children while relaxing in the warm sun. They offer loungers like our Calypso Plastic Resin Sling Stackable Chaise Lounge which feature a woven, vinyl-coated polyester fabric that not only dries quickly, it also resists mildew, fading, and stains.
They also provide plenty of poolside dining tables and chairs with umbrellas so guests can eat, drink and enjoy their time outside while being protected from the sun. Our Fiberbuilt Patio Umbrellas are a big hit here because they provide 9 feet of shade to keep everyone comfortable.
To top it off, this resort also has in-pool loungers like our Waters Edge Marine Grade Polymer Chairs that further help visitors beat the heat. Says one guest review online, ''The water park resort was the best. There were chairs in the pool that you could sit in and be in the water and stay cool. We were there for three days and none of us were ready to come home!"
"The service was top-notch, with food and beverage service available at your beach chair. Just raise the little umbrella and relax."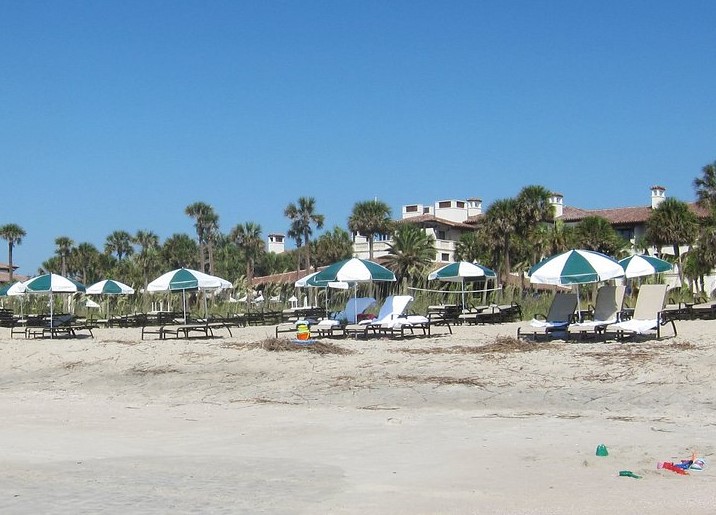 On Georgia's coast we have a client who delivers an impeccable resort experience. Offering pool, spa, and beachfront amenities, this five-star resort has it all. Guests say the staff takes care of your every need, making sure you always have a comfortable chair, umbrella, drinks, and food. Others comment what good condition their beach chairs are in and how the cabanas are "simply awesome."
When our clients order outdoor furnishings from Pool Furniture Supply, they're guaranteed to stand up to extended use and exposure to the sun, wind, sand, and saltwater. Our Corva Chaise Lounge Fabric Sling Chairs, for instance, boast a heavy-duty, marine-grade polymer frame that won't crack, split, swell or blister from exposure. With their long-lasting commercial construction, these chaise lounges come with a 5-year warranty against frame breakage and a 1-year warranty for the sling fabric.
Our outdoor cabanas are also built to last so you and your guests can enjoy years of use. Whether you choose a beach cabana to protect two beachgoers or a deluxe cabana tent that provides extended shade, your guests will feel the same way one of this resort's guests did after her stay: "Five stars isn't enough!"
"The pool was absolutely perfect for our girls' weekend. Delicious drinks, lots of chairs to relax on, and warm water to float in."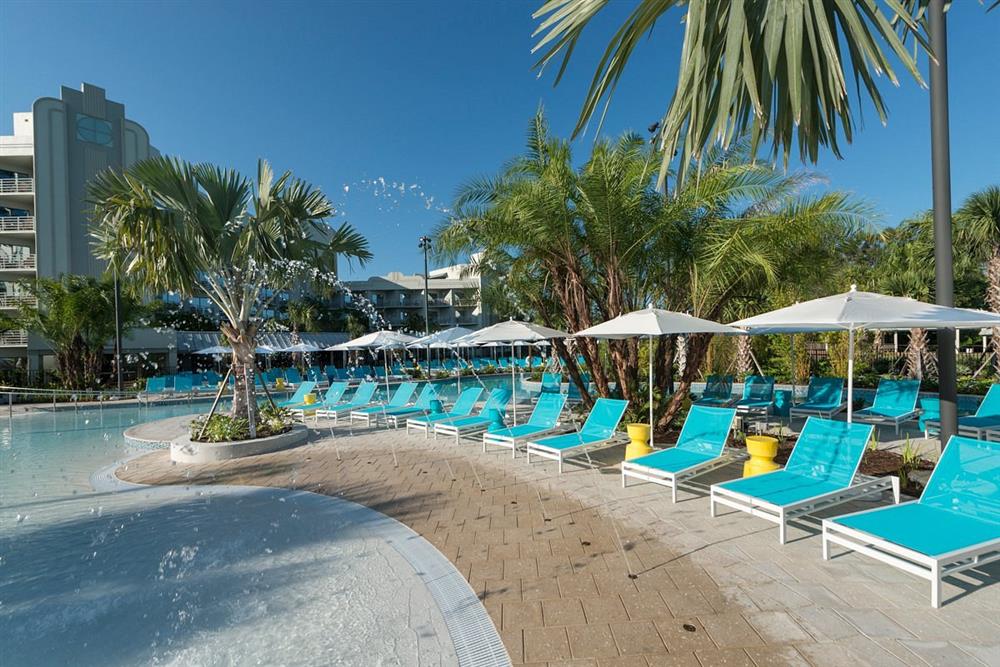 One of our Florida resort clients has created an outdoor paradise for their guests to relax and unwind after a day at the nearby amusement parks. Visitors say their outdoor area – complete with pool, slides, splash pad, pool bar, and hot tubs – exceeded their expectations. They also mention that the resort makes sure they have plenty of tables, lounge chairs, and chairs with umbrellas on hand for guests.
With attentive staff accommodating guests with drinks, towels, snacks, and even sunscreen, it's no wonder this resort is a fan favorite. Your resort can emulate their look by adding comfy chaise lounges like our Ledge Lounger Double Chaise Lounges that provide cozy couple seating and convenience. Each chaise has 5 different reclining options plus there is an 8-inch center space in between that acts as a small table. Choose from multiple color cushion options to create the ultimate relaxation zone. Complement these lounges with Ledge Lounger's Signature Ice Bin Side Table where staff can keep guests' favorite beverages ice cold. As an added plus, the 3-inch top rim doubles as a ledge for guests to rest their drinks. Our client's overall design and offerings earned a top online review from a guest: "It's a total gem for location, space, amenities, and comfort!"
If you want to cultivate great experiences for your guests – ones that prompt them to praise your establishment publicly – make sure you listen to their needs and indulge them with first-rate amenities. Let our experts at Pool Furniture Supply help you create the ideal outdoor oasis that will have visitors paying you compliments. As the leading provider of commercial pool furniture to hotels, HOAs, parks, universities, cruise ships, and public swimming pools across the USA, we'll help you find the perfect outdoor furnishings to fit your budget and style. Call us today at 1-877-646-6320.