We all know that outdoor pool and patio furniture takes a beating from the sun, wind, pool water, and everyday wear and tear by guests. Only well-built, commercial-grade furniture can stand this type of abuse and still last for years – which is why Pool Furniture Supply sells only the highest quality outdoor furniture from the best manufacturers.
When it comes to pool deck and patio seating, we have a wide selection to meet every style, application, and budget. From chaise lounges and poolside chairs to modular sectionals, our outdoor seating options come in a choice of durable frame materials such as plastic resin, marine-grade polymer, recycled plastic, wicker, and cast aluminum. And while the frame is important, it's the seating material that typically matters more when it comes to the comfort of your guests. Let's take a look at the different fabric options available for poolside furniture and the advantages of each.
Sling fabric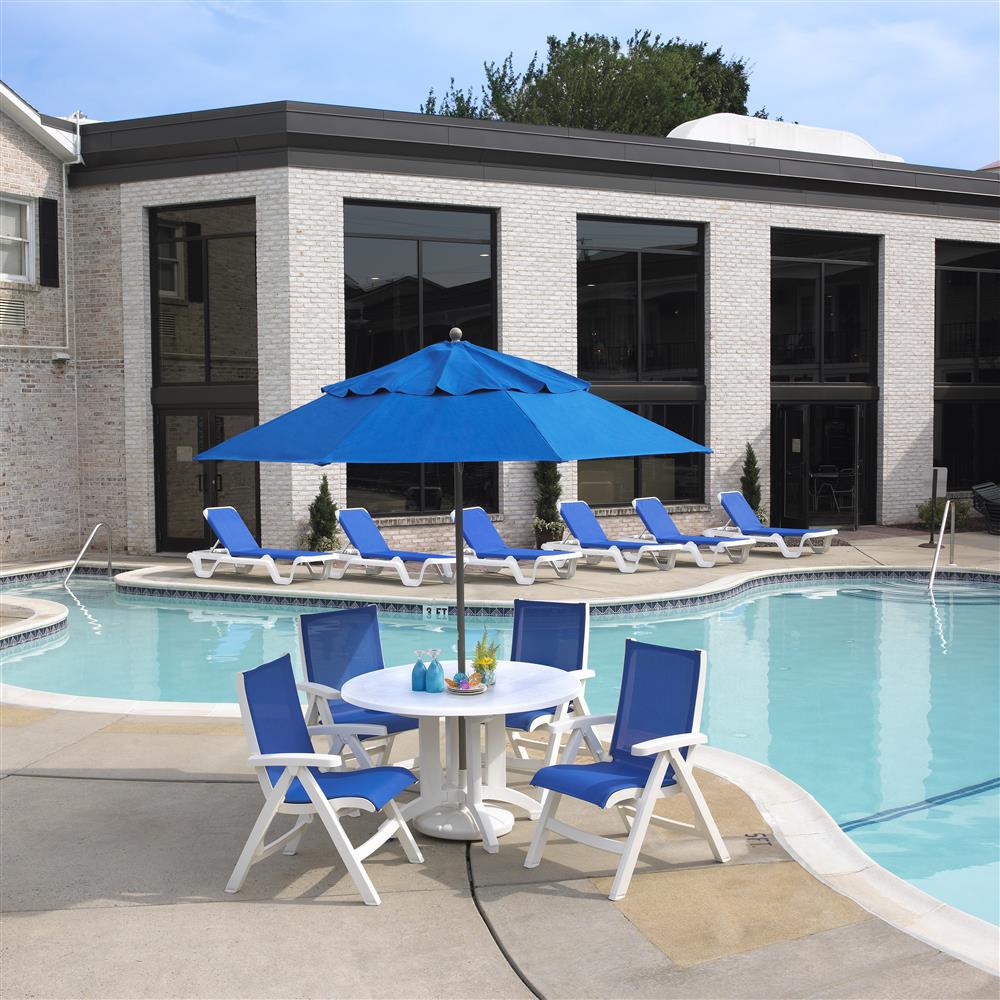 Sling chairs and chaise lounges are streamlined pool furniture pieces that give guests the feeling they're floating. They feature a minimal frame and are covered in a single piece of well-tensioned sling fabric with enough give to offer plenty of support without losing its shape. Sling fabric is typically constructed of woven PVC or vinyl-coated polyester material which is extremely strong and flexible but has very little stretch so that it won't sag or tear under pressure. The woven pattern provides breathability so guests remain cool and any moisture quickly wicks away.
Another benefit of sling fabric is its UV protection, so even your brightest colors won't fade after prolonged exposure to the sun. Grosfillex features high-strength Textilene fabric on all their sling furniture, which withstands mold, mildew, and discoloration by the sun. Made in the USA, their Belize Plastic Resin Folding Sling Arm Chair weighs only 19 pounds but is ASTM-rated to hold up to 300 pounds. This sling chair is not only durable, it's also economical and includes a three-year commercial warranty for both the fabric and the frame.
The Omega Sling Plastic Resin Chaise Lounge has a more European feel and a greater seat height than typical chaise lounges, making it easier for guests to get in and out of. The breathable polyester sling fabric is vinyl-coated for strength and resilience, while the frame is designed with slip-resistant nylon foot glides in front and recessed wheels in the back for easy mobility. This Italian-made lounge furniture comes in four attractive color combinations to fit in perfectly with your pool area.
Sling fabric is not only stylish and functional, it's easy to clean! Check out our four-step process to clean and maintain your sling furniture.
Padded sling fabric
For an enhanced sling experience, padded sling pool furniture provides a little more comfort, support, and color choices. Padded sling fabric typically has three layers of materials: a cushion fabric front, a fiberfill middle, and a sling fabric back. The cushion fabric offers a softer, smoother feel on top while the fiberfill's plush, spongey material creates pockets of padded support. Despite the three layers, padded sling fabric is extremely breathable, making it fast-drying and mold- and mildew-resistant.
Unlike tie-down patio cushions, the fiberfill pockets on padded sling chairs and lounges are built securely into the frame to keep the cushion from sliding. Comfortable, stylish, and supportive, padded slings are perfect for boutique hotels, poolside restaurants, or any venue with nearby water amenities. Since most of our padded sling furniture has different front and back materials, the colors can be mixed and matched to create standout pieces. An example is our Tropitone KOR Armless Padded Sling Chaise Lounge. This beautiful lounger features a commercial-grade steel frame, which is stackable for easy storage. To view the different fabric color options available, click on the View Options button next to each component of the lounge and a pop-up window will appear with small color swatches. Not sure which colors to choose? We'll be happy to send you swatch samples for any of our furniture so you can see and feel the fabrics.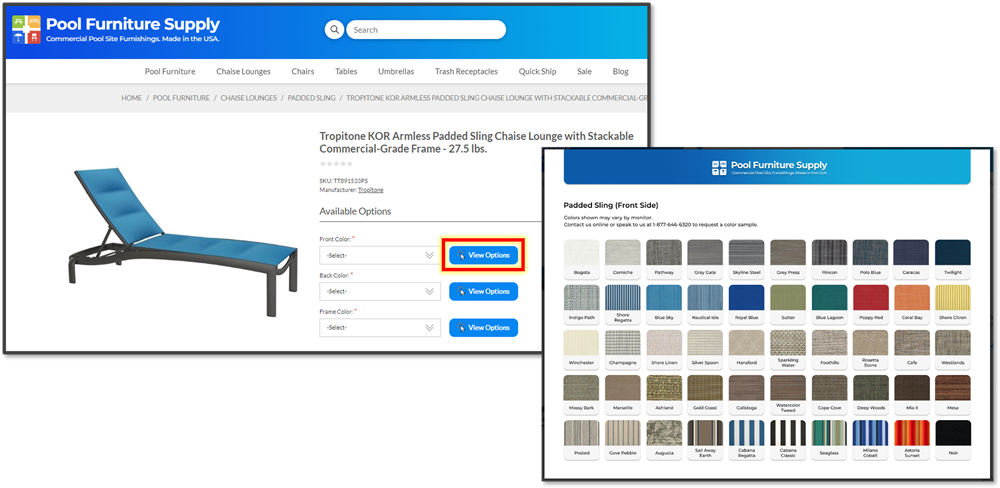 We also carry a number of Tropitone padded sling chairs with both modern and traditional designs. The South Beach Padded Sling Spa Chair by Tropitone features a lower seat height, sleek lines, and a stackable aluminum frame. It's a perfect blend of style and comfort, making it ideal for wellness centers and relaxing resort areas.
Deep seat cushion fabric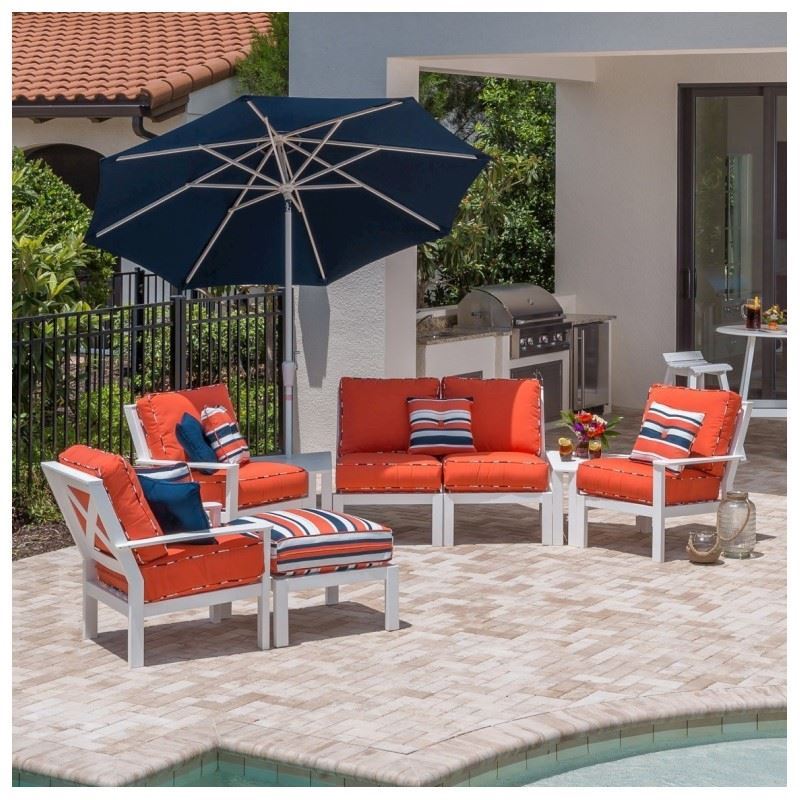 The third fabric option available for the outdoor pool and patio furniture is deep seat cushion fabric found typically in our sectional collections. Providing the ultimate relaxation, these pieces include ultra-thick cushions made of commercial-grade fabric with poly-wrapped foam so they won't lose their shape. Our manufacturers use heavy-duty fabric that stands up to the elements, yet is soft to the touch. The breathable foam and fabric covering enable the cushions to dry quickly, and most are made with UV stabilizers that prevent fading and resist mildew and moisture buildup.
Our sectionals come as à la carte pieces so you can build the perfect seating arrangement for your unique space. Our Sanibel Sectional Collection, for instance, offers loveseats, sofas, chairs, ottomans, and connector corner pieces made with marine-grade polymer frames. Choose from an array of solid colors and striped patterns for the box and welt-style piped cushions and accessorize them with accent pillows in contrasting colors or patterns to make a statement.
For a timeless look, check out our woven sectional collection. Tropitone's EVO Woven Deep Cushion Armchair is built with a sturdy aluminum frame and wrapped in either a dark Kaffe or lighter Nutmeg color poly wicker. The thick boxed cushions and back pillows are inviting and, when combined with other EVO sectional pieces, they create a sublime conversation area for guests to chill. Even after hours of use, these heavy-duty cushions will not leave depressions or lose their shape.
With Pool Furniture Supply's palette of cushion fabric colors and patterns, you can create unlimited color combinations for your outdoor sectional furniture. Make a subtle yet upscale statement by matching Sparkle Sandstone with Milano Char; and for a coastal vibe, combine Cast Breeze and Trusted Coast. Our design consultants can help you color-coordinate your cushions and frames and suggest the best pool furniture – and fabric – for your needs. Call us at 1-877-646-6320 to get started!