1. Golden Nugget – The Tank - Las Vegas Nevada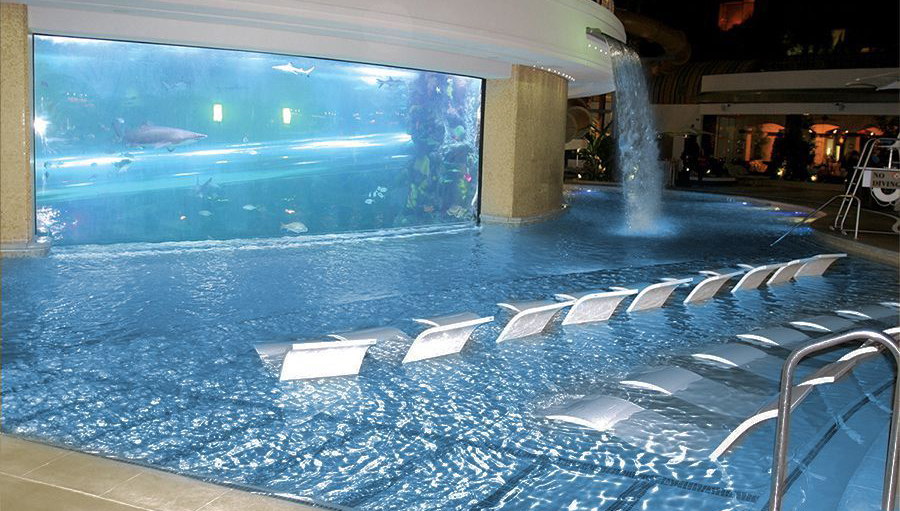 Have you ever wanted to swim beside sharks, but didn't want to suit up in scuba gear and sit in a metal cage? Well, you can scratch this one off your bucket list by visiting "The Tank" at the Golden Nugget in Nevada. Featuring a swimming pool that wraps around a massive 200,000-gallon aquarium filled with sharks! You can choose to swim next to this spectacular aquarium, enjoy the fish from afar while lounging on the poolside, or rush down a waterslide that runs right through the center of the tank.

2. Grand Wailea Resort - Hibiscus Pool – Wailea, Hawaii

Not far from the beautiful Wailea Beach is the Grand Wailea Resort, home to the Hibiscus Pool. This pool features a stunning waterfall architecture that flows from the top fountains to the swimming area below. The floor is delicately tiled to form a large white flower to compliment the blue waters. A spectacle during the day or night, guests can relax by the fresh water as they listen to the waves crash in the distance. This swimming pool is meant for adults only, but there are more family oriented pools on the premises.

3. Glenwood Hot Springs Resort – Hot Springs - Glenwood Springs, Colorado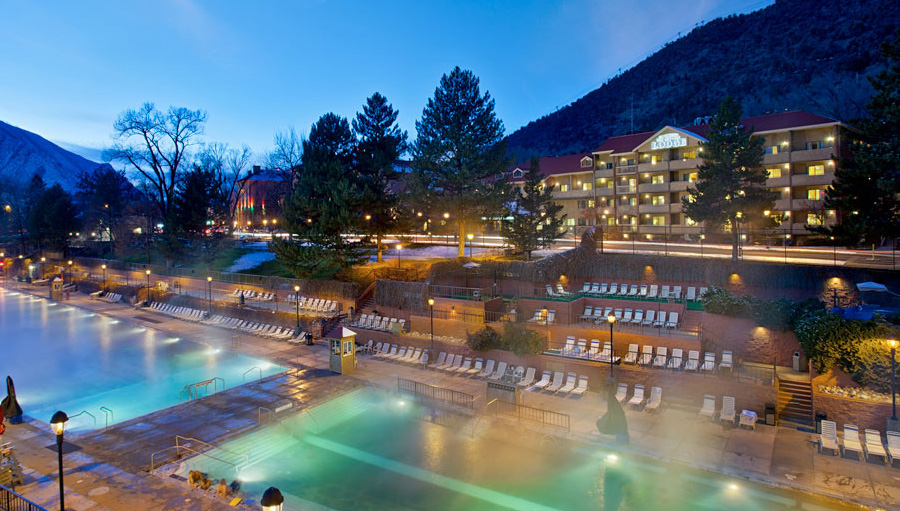 Need a place to relieve pain in your muscles and joints? Come warm up in the world's biggest Hot Spring Pool at Glenwood Hot Springs Resort. This pool is kept at a comfortable 90 degrees year-round creating an enjoyable swim, even during the winter. The pool contains natural minerals that along with the temperature, can rejuvenate your body and mind. Guest will appreciate the snowy mountain scenery as they relax in the water. For the athletes, there are a few lane laps that stretch the length of the pool. Glenwood Resort is a hot spot in the summer too, as it also features two nearby waterslides, a mini-golf course, and a kiddie pool. If relaxation is more your style, you can relax in one of the many Bahia chaise lounges and just enjoy the setting.

4. St. Regis Princeville Resort – Princeville, Hawaii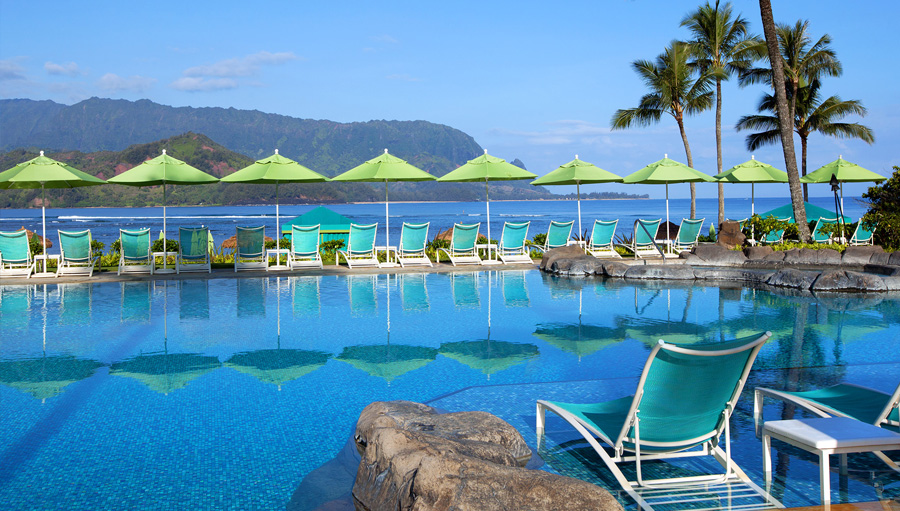 The swimming pool of St. Regis Princeville Resort is placed in the middle of a tropical paradise. This one of a kind 5,000 sq ft. pool overlooks the beautiful coast of Hanalei Bay. Guest can literally take a few steps from the pool and have their feet comforted by the beach's hot soft sands. An amazing view of Kauai's mountain ridges can be seen from any point of the pool deck.


5. Fairmont Scottsdale Princess – Sonoran Splash Pool – Scottsdale, Arizona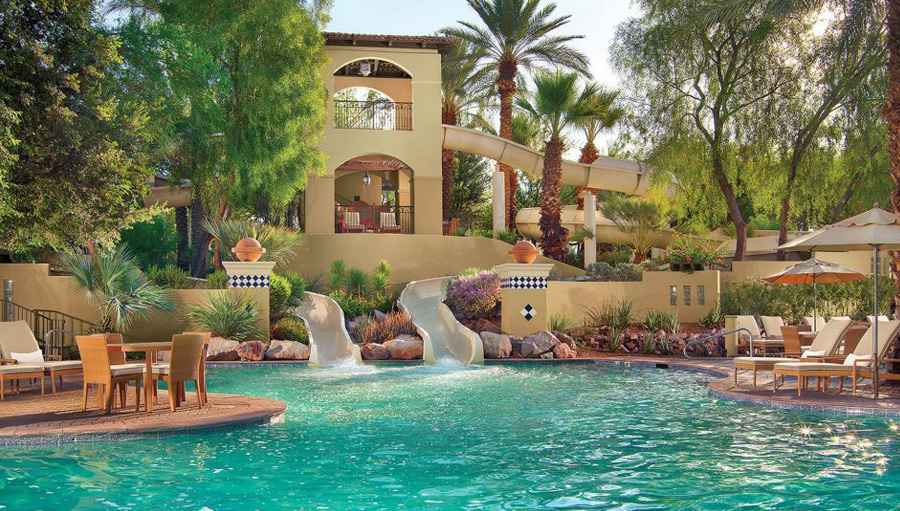 For a more fun, family oriented pool at a 5-star luxury resort, try the Sonoran Slash Pool at the Fairmont Scottsdale Princess. The 6,000-sq. ft. pool is equipped with two water slides, a zero-entry pool deck, and a nearby sandbox play area, complete with Tonka trucks and other toys. Children can play in the water or on land as their parents relax on a chaise lounge in the open Arizona air.

6. Westin Kierland Resort and Spa – Lazy River - Scottsdale, AZ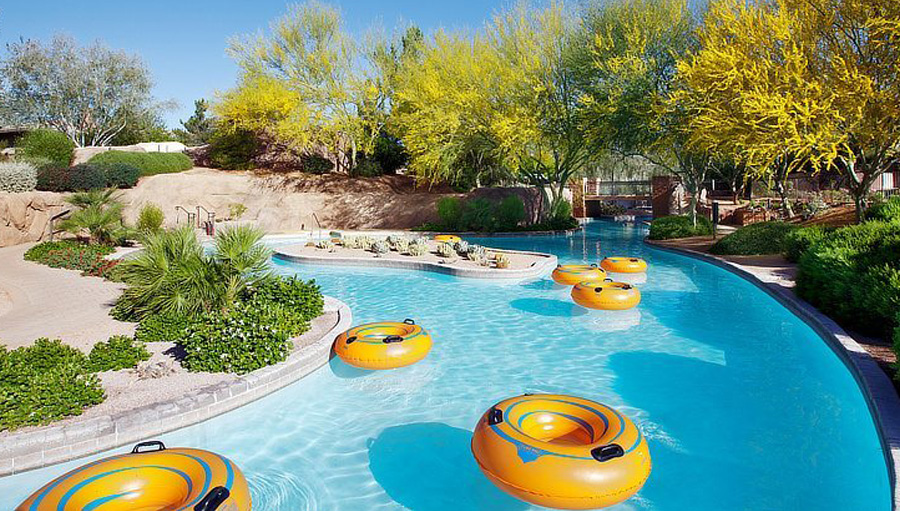 Take a trip on the lazy river through the Sonoran Desert at the Westin Kierland Resort and Spa. This 900-ft. winding pool gives guest that California beach experience while preserving the Arizona desert landscape. You can choose to spend hours slowly following the stream cooling off on the inner tube or relaxing alongside the poolside in one of the many chaise lounges complete with umbrella shade. The family-friendly resort is also equipped with an adventure waterpark containing a 110-ft. waterslide and children's splash pad with zero depth entry.

7. The Pool at The St. Regis Deer Valley Resort – Park City, Utah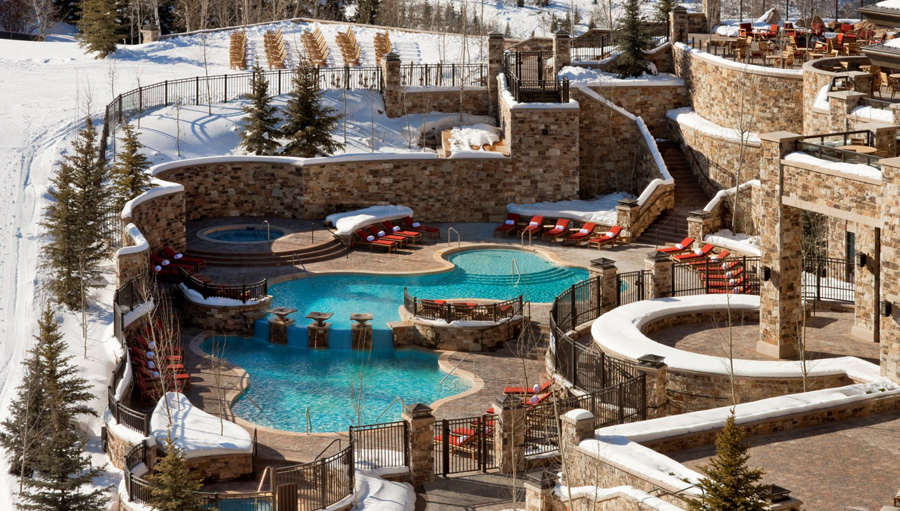 Located deep in Wasatch Mountains of Utah lays the St. Regis Deer Valley Resort that changes from lush green to snowy white depending on the time of year. However, the pool knows no season as it remains warm and blue year-round. This gorgeous 2,400-sq. ft. pool is split level and heated during the winter. The alpine covered slopes surrounding this pool is truly breathtaking in any weather.

8. Hard Rock Hotel & Casino – Rehab - Las Vegas Nevada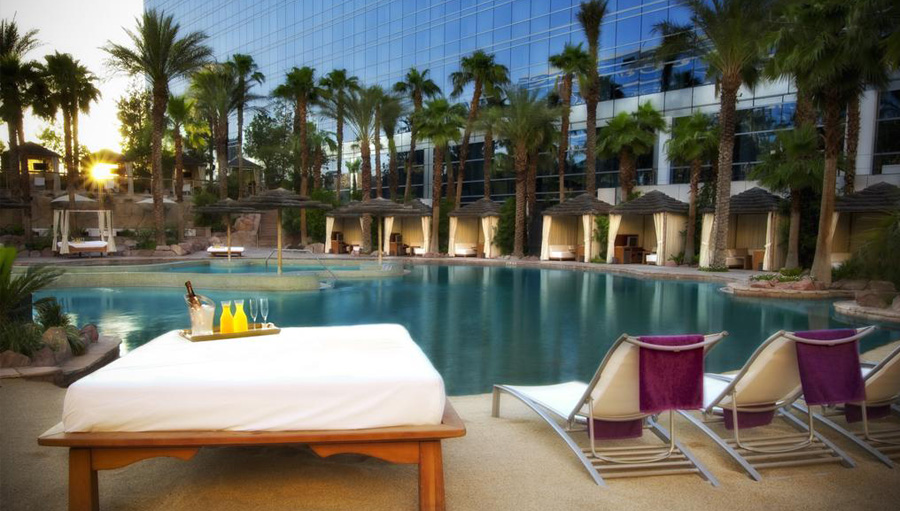 During the week the Rehab pool at the Hard Rock Hotel & Casino Las Vegas is serene and desolate. However, during the weekends this quiet oasis turns into the biggest pool party in the world. The Rehab plays loud live music all day and by night it takes on a Las Vegas glow by multiple LED lights. This 5-acre tropical paradise can accommodate 3000 adults and features full grown palm trees, sandy beaches, comfortable relaxed sling south beach chaise lounge lined pool edges, and cabana rentals.

9. Delano South Beach Club - South Beach, FL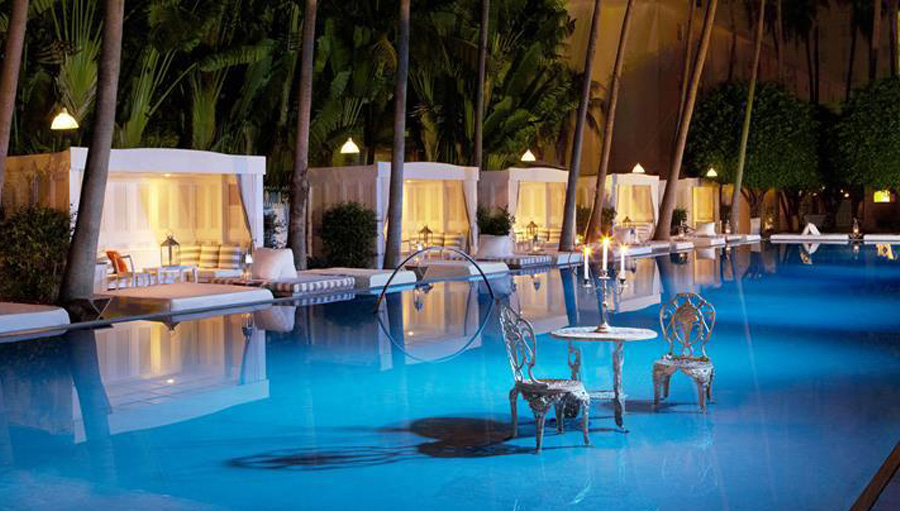 For a more adult rated pool that stays warm all year round, you may want to consider the Delano South Beach Club in sunny filled Miami Beach, FL. This pool features a slight Alice in Wonderland theme as a candlelit table for two remains almost floating on top of the water in the shallow end. The pool-edge is lined with cabanas that act like their own private retreats, complete with flat screen tv and sectional furniture.
10. JW Marriott San Antonio Hill Country Resort – San Antonio, Texas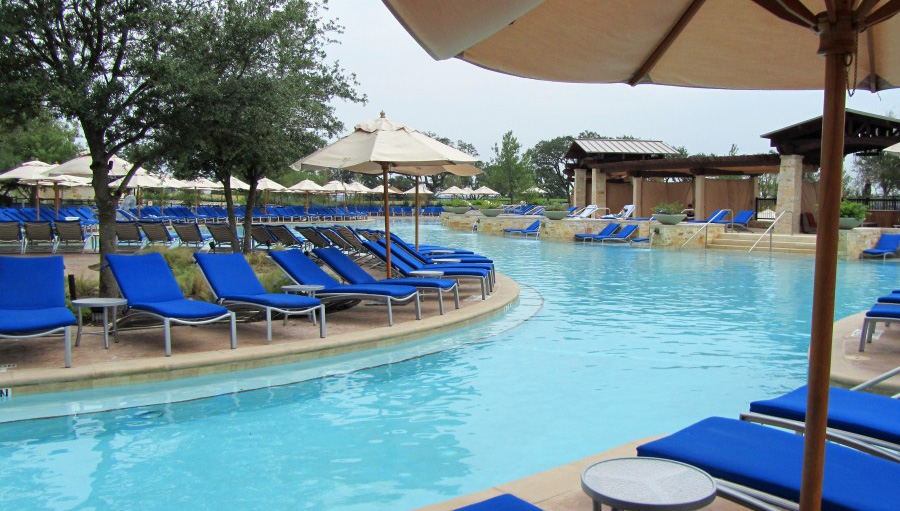 The JW Marriott San Antonio Hill Country Resort designed their swimming area after a waterpark. The massive 1,100 ft. lazy river makes up the perimeter, surrounding 650-ft. rapid river rides, children's pools, whirlpools, and splash zones. The pool ledge is lined with south beach vinyl chaise lounges with comfortable cushions and companion acrylic poolside tables to set a cocktail as you watch guests float on by. This Resort is the perfect choice for great family fun and relaxation.




For years, Pool Furniture Supply has provided chaise lounges, patio chairs, umbrellas, and poolside tables to hotels and resorts in the name of hospitality. Guests will feel comfortable using our commercial grade pool furniture as they enjoy their vacation by your pool.