Economic pains such as lack of raw materials, labor shortages, and overall rising costs continue to affect the supply chain on a global scale. While the economy is slowly recovering, some industry experts and US businesses predict supply chain challenges will continue into next year.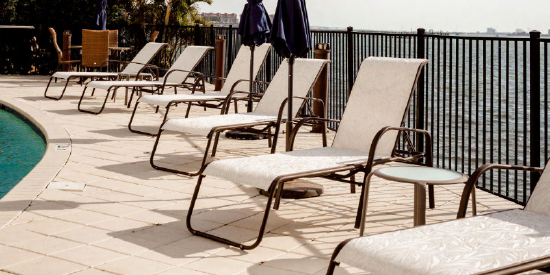 At Pool Furniture Supply, we're doing our best to mitigate these current challenges and keep our customers informed on the current availability and lead times for our commercial pool furniture products. Manufacturer production lead times continue to be the biggest lag but we are in regular contact with our vendors to receive the latest updates and timelines.
As of now, here are the current lead times – from the time you order to the day it leaves the factory – for our various types of pool furniture:
Quick Ship aluminum furniture: 16 weeks
Our Quick Ship program offers fast shipping (normally 7 to 14 business days) for a selection of our pool and patio furnishings. Due to manufacturer constraints, our Quick Ship aluminum furniture currently has a 16-week lead time. This extended lead time affects just a few of our products, including our 42-inch Round Dining Table with Fiberglass Top and our vinyl-strapped St. Maarten Dining Chair and St. Maarten Chaise Lounge. We know these are mainstay pieces for many of our customers, which is why we suggest you order them now to receive them by early spring.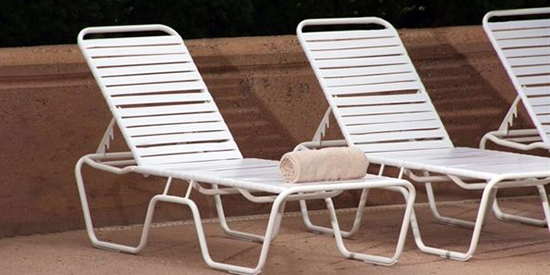 Custom furniture: 24 weeks
Custom pool furniture includes any products made of aluminum or marine-grade polymer that come in a large selection of color options. Since not all of the color offerings are typically stocked, there is a 24-week lead time to receive them right now. In cast aluminum cushioned furniture, our Telescope Ashbee Sectional Collection features individual connecting chairs that can be customized to create the perfect poolside hangout for your guests. Pieces like the Ashbee Sectional Cushion Arm Chair come in a range of aluminum frame colors as well as over 20 cushion colors. You can also choose to add attractive rope accents to the arm frames.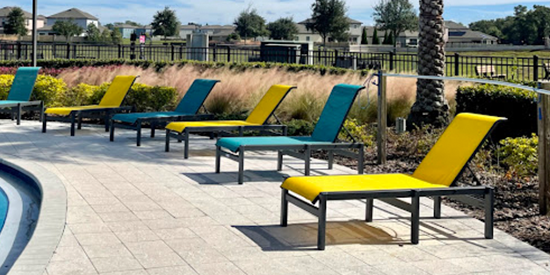 Color customizations are also available with our marine-grade polymer deck furniture. This manufactured high-density polyethylene material resists rotting and fading and comes in multiple colors to match your outdoor space. A great example is our Juno Chaise Lounge with Fabric Sling, which provides durability, comfort, and beauty for years to come. Be as unique as you'd like with the wide variety of sling fabric color options ranging from subtle to bold – and everything in between. The MGP frame also comes in light to dark color options to complement the fabric sling.
Custom pool furniture can do wonders to express your style and create the perfect ambiance for your outdoor pool area. Don't sacrifice the look you want by ordering your custom furniture too late. If you order from Pool Furniture Supply now, you should receive your order by May 2023.
Plastic resin furniture: In stock!
Durable yet lightweight, our plastic resin pool furniture products are best sellers among our hotel, resort, and public pool customers. We're excited to share that most of our plastic resin furniture is in stock. Since many are made in the USA – such as our classic Pacific Fan Back Stacking Armchair and our modern Calypso Plastic Resin Sling Stackable Chaise Lounge – they are typically available now to ship to you. We offer hundreds of plastic resin pool chairs, tables, chaise lounges, and poolside accessories, so please call us before you order to confirm availability. Even though our plastic resin pool furniture is usually in stock, we recommend you order now to avoid next year's price increases and to ensure you're ready for your guests to come open pool season.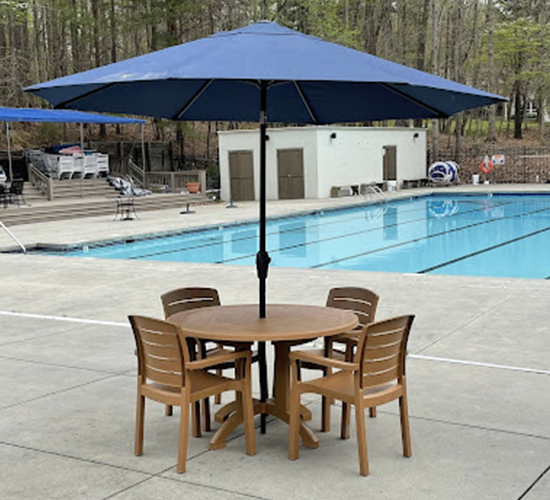 Plan ahead to ensure your property's pool area will be ready to provide fun and relaxation for guests next summer. Browse our website for all your poolside needs and order them as soon as possible for the best prices and lead times. As always, our knowledgeable Pool Furniture Supply associates are here to help. Call us at 877-646-6320 to ask questions, receive complimentary design assistance, and place your order.