When most people shop for outdoor pool furniture, they're looking for attractive, inexpensive pieces. Steel pool furniture checks both boxes. However, when a buyer orders this furniture at a discounted price, it's usually just a matter of time before the old adage, "You get what you pay for," rings true.
Initially, the steel furniture looks great. But it's not long before chlorine and saltwater erode the metal creating rust on the frame and leaving orange rust stains on pool decks and patios. Typically sourced overseas, steel pool furniture is a popular seller at big box stores. While buying imported steel furniture may save money at the onset, it ends up costing more in the long run as buyers must replace their furniture more often and spend time and money trying to remove the stains left behind.
Don't take our word for it – check out these reviews on various retailer websites from customers who bought steel outdoor furniture: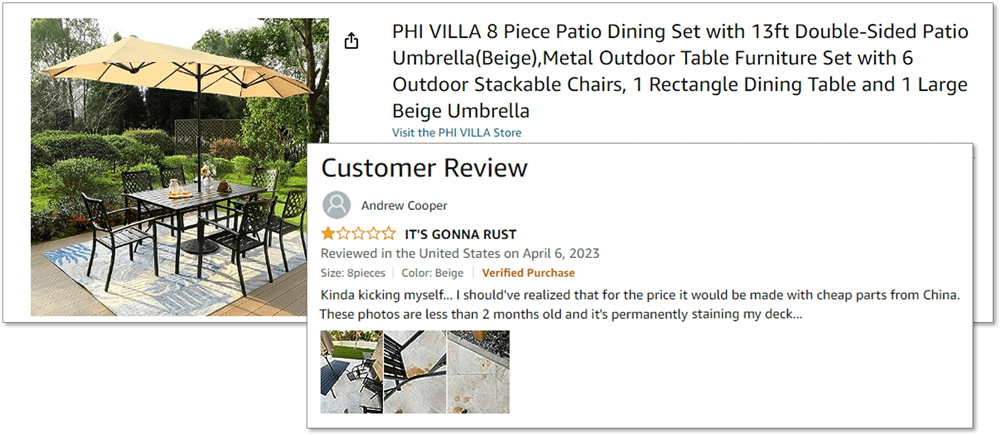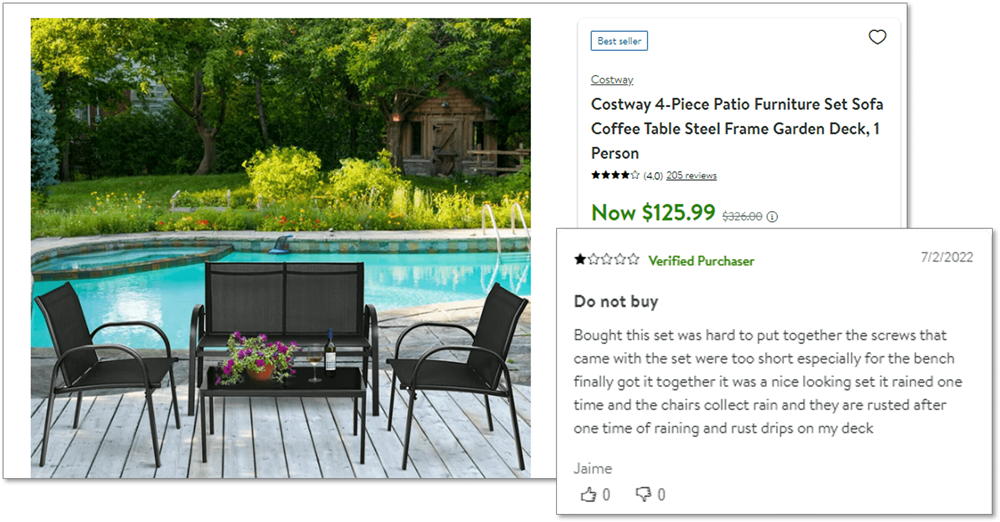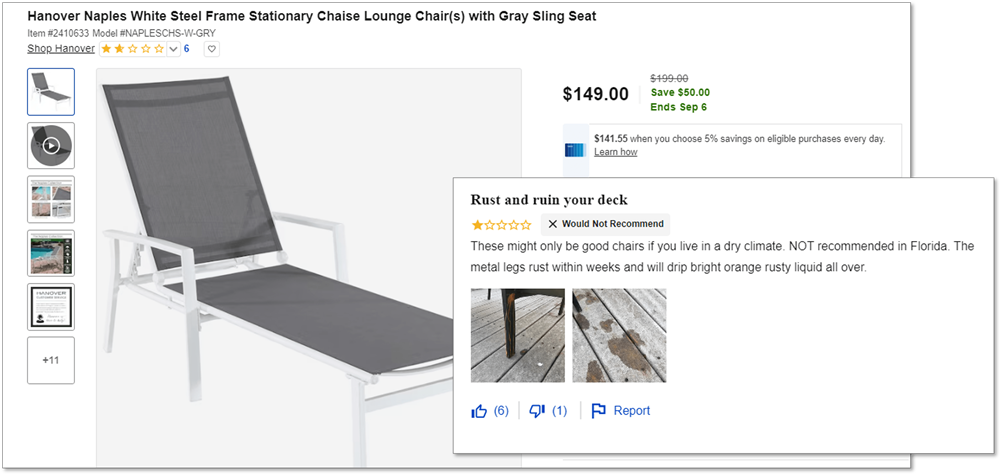 Pool Furniture Supply is here to tell you there are better options than steel! As the leading provider of commercial pool furniture, we sell products made from heavy-duty, non-corrosive materials, which are proudly built in the USA and withstand constant outdoor exposure to provide years of long-lasting use and beauty. Our aluminum-frame pool furniture is a great alternative to steel – read on to see why.
Advantages of aluminum outdoor furniture
Aluminum is an ideal metal for patio and pool furniture because of its many benefits:
Rust-resistant and non-corrosive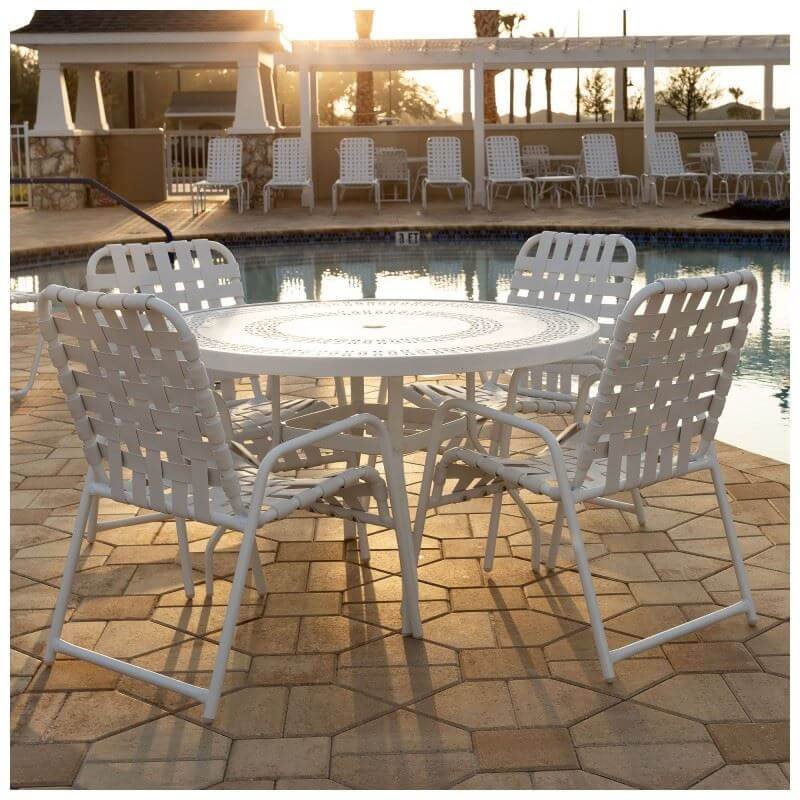 Aluminum on its own does not rust or easily corrode – even when exposed to humidity and coastal sea air. When treated with a powder coating, aluminum furniture ensures further protection against rust, corrosion and fading. Quality pool furniture manufacturers use stainless steel hardware with their aluminum framing, which also doesn't corrode or rust.
Sturdy yet lightweight
Pool furniture can be constructed of either extruded (hollow) aluminum or cast aluminum, which is solid, molded metal. Commercial-grade, extruded aluminum frames typically have internal reinforcing ribs within the aluminum for added strength and durability. And while cast aluminum is extremely sturdy and won't dent, pool and furniture pieces made with cast aluminum are still easy to move.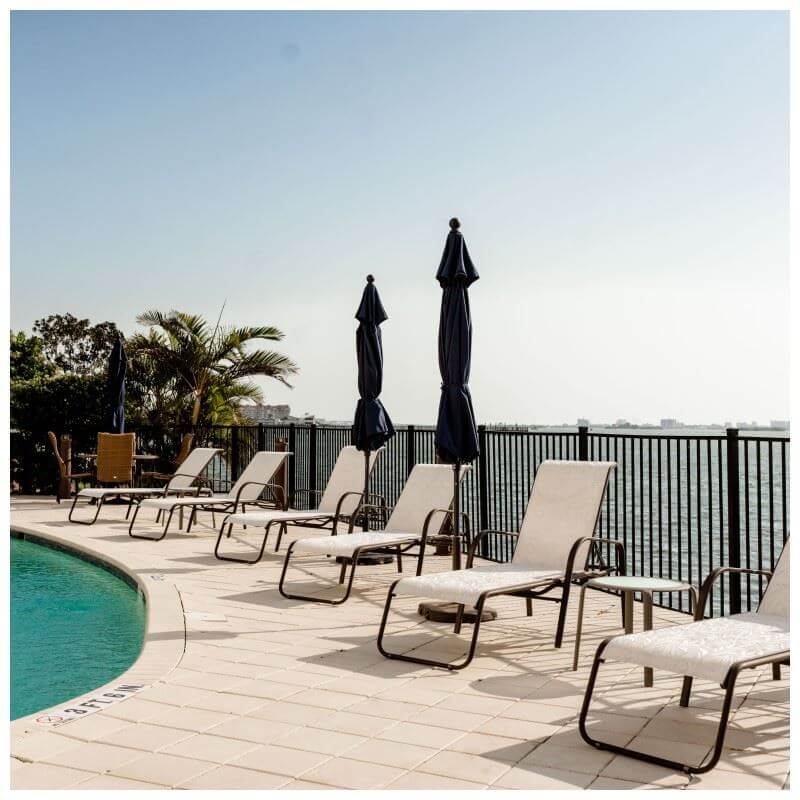 Low heat conductivity
Unlike steel, which becomes hot to the touch from sitting in the sun, aluminum does not conduct and retain much heat. Even when the furniture is exposed to the burning sun all day long, it remains safe and comfortable for use.
Low maintenance
Aluminum is easy to clean and maintain – simply spray the furniture down with a garden hose, then use a sponge and clean warm water to get into the nooks and crannies. Finally, wipe the furniture dry with a soft cloth. For extensive dirt buildup, use a mild detergent meant for aluminum; avoid harsh chemicals or abrasive cleaners that can damage the finish.
For a better return on your investment, go with commercial aluminum
When it comes to metal outdoor furniture, aluminum construction is the all-around winner. Whether you're looking to buy chaise lounges, dining or patio tables, beach furniture or poolside seating, aluminum-built outdoor furniture offers the most durability, usability and reliability.
Pool Furniture Supply proudly sells an extensive line of aluminum-constructed pool and patio furniture in a multitude of designs and colors to match your space and style. Our manufacturers are some of the best in the industry, providing first-class workmanship right here in the United States. Also, all our furniture is backed by 3- to 10-year commercial warranties, depending on the manufacturer and product.
Along with aluminum furniture, we also offer products made of marine-grade polymer, plastic resin, recycled plastic, and woven materials. From poolside seating and in-pool furniture to umbrellas, cabanas, and other pool and patio accessories, Pool Furniture Supply has you covered!
For more than 20 years, Pool Furniture Supply has provided the best products, highest customer service, and unique personal touch that keep our customers coming back. We're delighted and humbled by the wonderful feedback we receive about our products and our company. Here are just a few: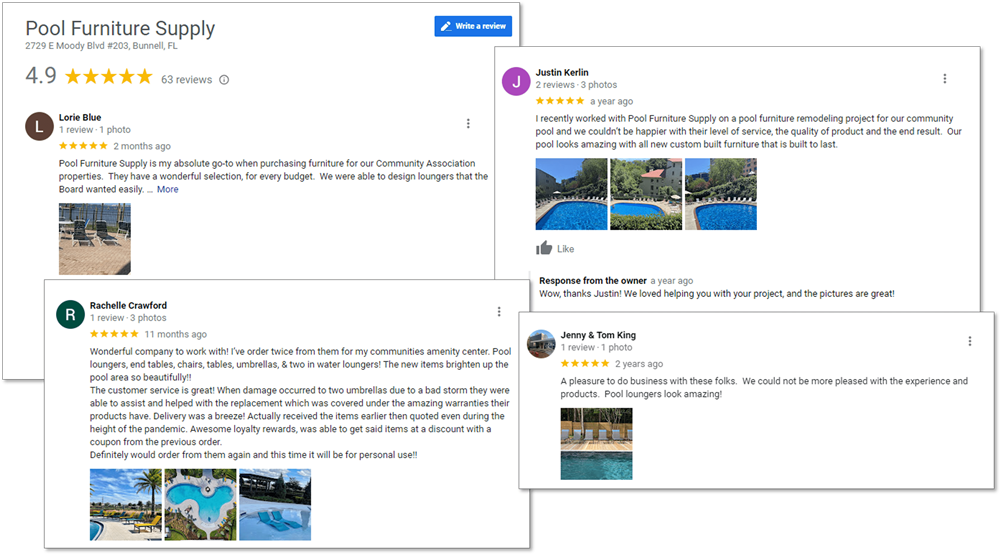 Don't purchase imported pool and patio furniture made from subpar materials – it will only leave you disappointed. Instead, look to Pool Furniture Supply for high-quality, commercial-grade pool furniture for your resort, community, public pool, or personal space. Call us today at 877-646-6320 and one of our friendly and knowledgeable consultants will help you find the perfect pieces for your needs.