Condos, apartments, and retirement communities are expanding as citizens begin settling down to enjoy their golden years. Many of these areas come with accommodations to make their residences' stay a pleasant one. Pools are a popular asset as a means of entertainment and exercise, so it's not uncommon for establishments to spare no expense for practicality and luxury. One comfortable addition to consider when adding relaxation to the pool area is Senior Friendly Chaise Lounges.
What is a Senior Friendly Chaise Lounge?
A Senior Friendly Chaise Lounge is a pool lounge chair that has an elevated seat height around 18" or higher. A standard chaise lounge seat height usually ranges from 12" to 16". The size difference between the standard and senior height chaise lounges doesn't seem like much, however, it does make a significant impact on one's back and knees. The average knee height for adults is around 24" from the ground to the top point of the knee. When the seat height is so close to the ground there is more effort needed to get in and out. This is especially challenging for those with aching joints. So commercial establishments, such as retirement communities, condos, and even rehabilitation centers, benefit greatly from the seat height increase.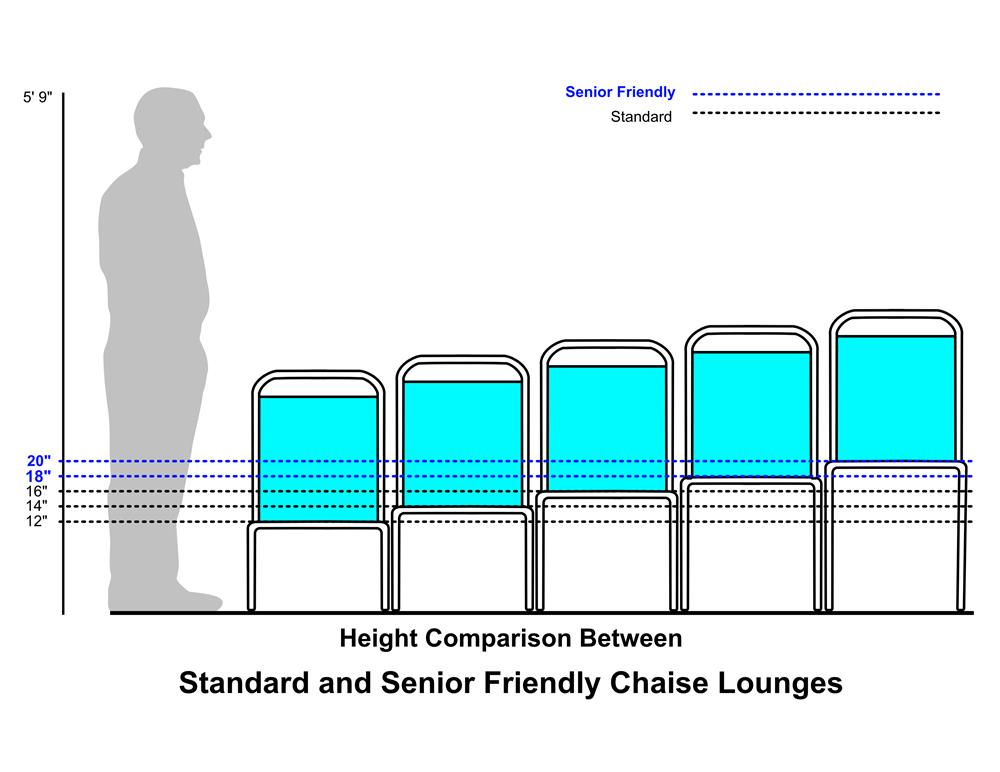 Can Senior Height Chaise Lounge Come with Arms?
The purpose of the senior height chaise lounge is to elevate the seat height so it's easier for guests to get in and out of. Adding armrests to this type of chaise lounge presents an additional obstacle for senior citizens by needing to push and pull themselves from the center to the backrest. To avoid this strenuous task many senior-friendly chaise lounges are simply designed without them. However, there may be a few options available if you still want your senior height chaise lounge with arms.
Are Senior Height Chaise Lounges Considered ADA or Handicap Accessible?
No. There are no true guidelines for furniture such as chaise lounges. If you were to compare the specifications to what is required for benches the senior height chaise lounge can meet the 17" min to 19" max seat height ADA requirement. However, it would not be fixed to the ground nor would there be a grab bar for transfer. Also, there would need to be 36" spacing around each chaise to be considered ADA compliant.
Word of Caution
There are so many health benefits for senior-friendly chaise lounges, but there is one drawback to keep in mind, particularly when it comes to chaises with a sled base frame. Weight should never be solely placed on the very ends of the chaise. For instance, if someone were to sit at the foot end of the chaise lounge to tie their shoe, it could teeter up and out from underneath the guest. The elevated seat only adds to the ease of tipping from this example and holds a higher fall height. It is encouraged for a person to sit on the sides of the furniture as intended to avoid possible issues.

Conclusion
Senior height chaise lounges make it easier for the elderly to relax by the pool. By raising the seat height, you can protect senior patrons by avoiding unnecessary strain and injury from getting out of the chair. Most people have no problem with standard heights lounge chairs, but if you have a little extra in your budget, consider this comfortable upgrade to ensure your guests are happy!
Talk to a sales professional today to get a written quote with discounts on a furniture package deal! 1-877-646-6320