What is the weight limit of the pool furniture? How much weight can the patio furniture hold? These are the most common questions we receive on a routine basis. And rightfully so. Many who ask these questions manage a commercial establishment and want to reduce the risk of liability when considering pool furniture for their business. Not only does the weight capacity tell you how much the furniture can comfortably hold, but it also gives an indication of how long it will last with repeated daily use. Pool Furniture Supply has many commercial brands with and without ASTM ratings and will break them down accordingly, based on the frame material.
What is an ASTM rating?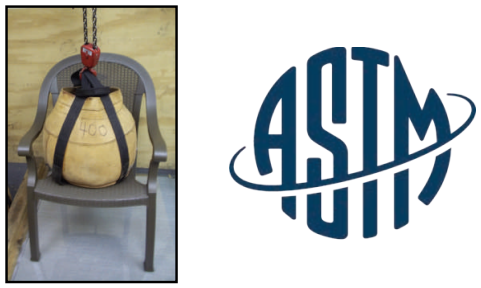 The American Society for Testing and Materials, now known as ASTM International, is an organization that develops standards for products based on materials to ensure quality and safety requirements are met. For pool furniture, this often includes holding a specified amount of weight for a duration of time on a specific portion of the frame, such as the seat, back, armrest, or rear legs. To pass these performance criteria, all tests must be performed on the same sample of chaise or chair without showing any signs of breakage, cracking, or structural damage. Specifications are again determined by the compound structure used to make up the furniture. Only after the model is able to meet all the conditions will it be awarded an ASTM rating for its class.
300 - 400 lbs. ASTM Rated
People often see plastic furniture as flimsy and cheap due to their experience with the patio furniture purchased for their own residences. However, unlike the plastic furniture you would find at your local department store, all our commercial plastic patio furniture frames are made from semi-thick polypropylene resin. Chaises and chairs molded from this material are significantly more robust than their residential equivalences. Additionally, each stylistic design of plastic resin furniture undergoes an intense assessment process that takes years to refine and approve. Safety, stability, and longevity are of utmost priority before the master mold is even cast. Once the final product is produced, it goes through yet more testing to ensure the quality is up to standards before opening it to the market. This includes an ASTM rating of 300 lbs. or better!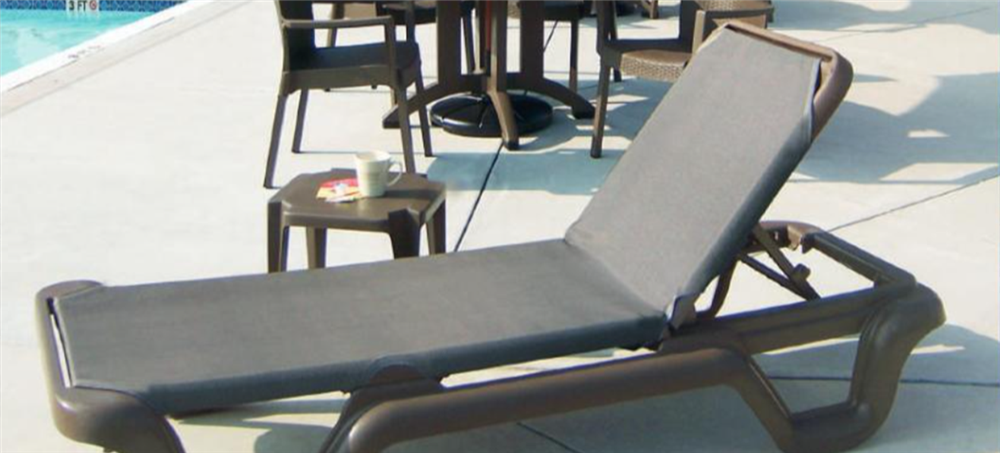 250 lbs. Not Official
Aluminum tubing used for our patio pool frames varies based on the design of the chaise or chair. For example, our most popular St. Maarten is constructed from 1" dia #16 aluminum with a .0625" wall thickness while our runner-up Ocean Breeze features a 1 ½" x ¾" oval tubing with internal supports. Regardless of the extruded aluminum tubing type, they all have one thing in common. They are internally hollow. This doesn't mean aluminum tubing is any less effective in a commercial setting since it still contains the strength of metal with full-circumference heliarc welds. However, it may not be as preferred over recycled plastic or MGP with completely solid cores. Our aluminum frame pool furniture is not officially weight tested, but we can confidently say this material has no problem supporting 250 lbs. Sling and cross-weave vinyl strap with bolt-thru hardware aid even more for support and weight distribution. Within our nearly 20 years in the commercial pool furniture industry, we have never received a liability or safety complaint regarding the weight capacity of our aluminum strap or sling furniture.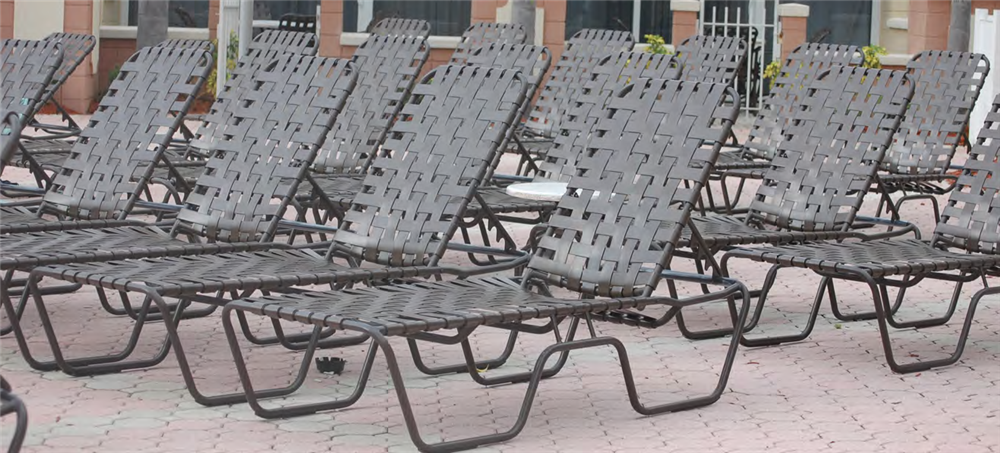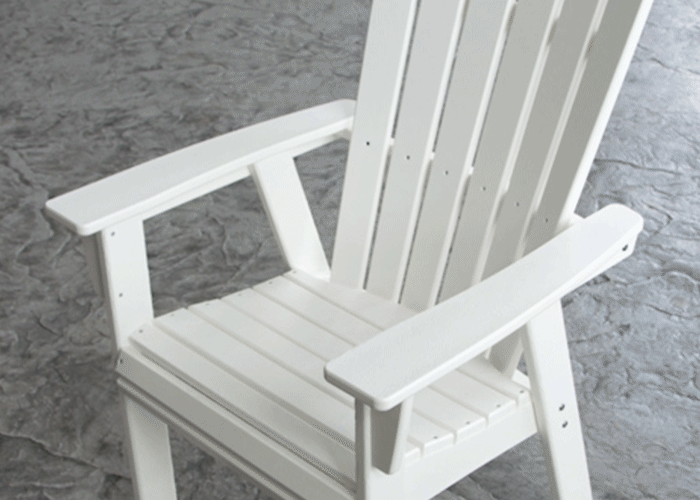 325 lbs. ASTM Rated
Recycled plastic furniture is made from solid plastic lumber that takes on the strength and appearance of wood without the drawbacks of splintering, cracking, or weathering. In fact, recycled plastic made from high-quality high-density polyethylene (HDPE) is the second most durable material used in the patio furniture industry today! Furniture made from recycled plastic planks have been officially ASTM-rated at 325 lbs. Not a bad way to repurpose those plastic bottles and milk jugs!
325 lbs. Not Official
Marine-grade polymer (MGP) is the leading material used for strength and durability within pool furniture manufacturing. It shares the benefits of recycled plastic, but being a virgin HDPE has no risk of internal inconsistencies. It is the preferred material in the construction of boat hulls for its ability to withstand uv rays, chemicals, saltwater, and more! However, the robustness does come at a price, making MGP the most expensive material as well. Also, the thickness of the MGP differs based on the pool furniture model. Because of this, our MGP chairs and chaises have not been officially weight-tested. We give it the same weight rating as recycled plastic, but this heavy-duty material is physically capable of handling more!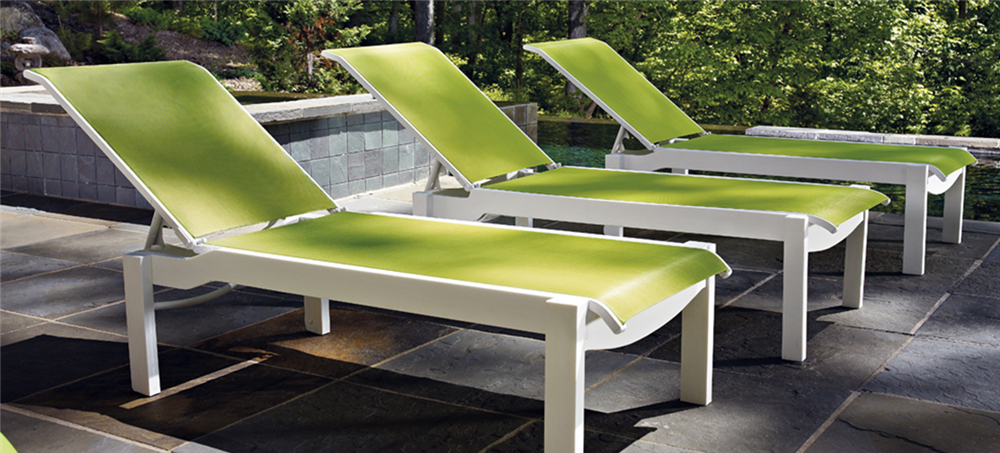 This concludes our weight limit ranking for patio furniture based on materials, with and without ASTM rankings. We hope this helps answer any questions you may have regarding the weight capacity of our pool furniture. If you have any further questions, please call 1-877-646-6320 and speak to a sales expert for more details!