There is nothing more important to a Homeowners Association (HOA) than to make their community a happy, engaging place and to increase the property value of the homes located within their subdivisions. One great asset within the community is the HOA swimming pool. However, if you're not investing time and funds into maintaining the pool area the residents in your community may not even want to use it. Enhance your HOA pool area with smart accessory and furniture options, while taking regular action to keep it clean, safe and ready for community use. Follow some of the tips below to spruce up your pool area and make your HOA community a more inviting and engaging place to be.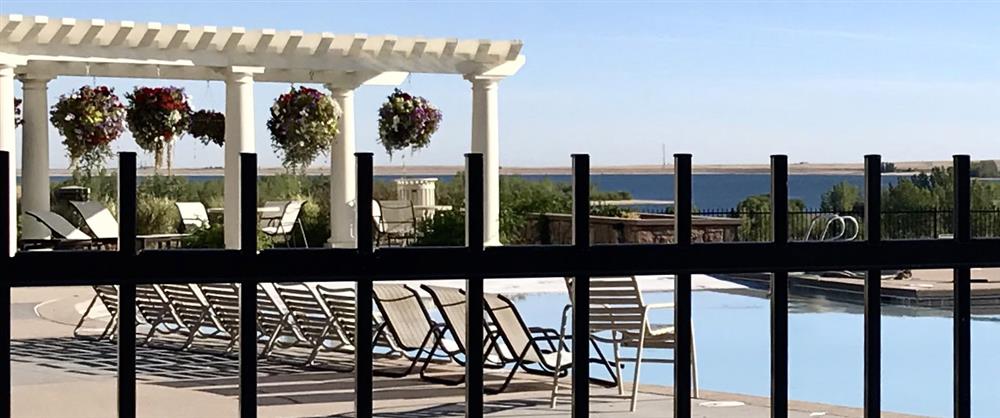 1. Add Shade Options

Encourage long, lazy afternoons at the community pool by offering shade options. Pair commercial patio or garden umbrellas with tables, patio chairs, and umbrella bases to create seating and eating areas. Market Umbrellas make nice additions between lounge chairs to break up the constant summer sun. Cantilever umbrellas let you provide large patches of shade without blocking walkways, and you can position them strategically to cast shade over areas in the actual pool.
2. Create Comfortable Conversation Corners

Once people are cooler, create even more comfort with cushioned furniture or Adirondack chairs that invite them to curl up with a good book or hours of friendly conversation. Chairs and sofas with cushions let you add a colorful pop and posh style to your pool area. They also encourage people to congregate and enjoy the company even when they aren't swimming.
3. Add Fire Pit Tables

Your pool area doesn't have to be a single-season gathering place. Create inviting areas for the fall or even mild winter evenings by adding fire pits or fire pit tables to the area. People from the community can use these tables to add mood and lighting to the area when the sun goes down or support a Friday-evening s'mores party tradition.
4. Invest in ADA-Compliant Furniture

Choose furniture that is ADA compliant or friendly to seniors and others who may experience limited mobility. Chaise lounges with elevated seat heights, for example, are 4 inches taller than standard, making it easier on the knees when getting in and out. ADA patio dining tables are also a great addition as well for those who are wheelchair-bound.
5. Revitalize With New Modern Pool Furniture

It's rare to find an HOA community pool that doesn't already have some furniture. But if your items date back decades or are full of stains, tears, or sagging seats from long-term use, it might be time to get your pool a quick refresh by investing in new, modern pool furniture.
Start with the essentials, such as patio tables and chairs, so people have places to work and eat as they enjoy time outdoors. Chaise lounges are critical pool accessories because they let people relax in the sun whether they're talking with friends or getting a tan while the kids compete on the diving board.
Once you cover the basic pieces, consider adding a few additional elements. Side and cocktail tables offer places for people to keep their things off the often-damp ground, and they also let groups serve drinks or refreshments at their gatherings.
6. Clean All Furniture Routinely

Once you've dressed the poolside area to impress, keep up appearances by cleaning all the items regularly. Routine cleaning helps protect the appearance of your pieces, reduces natural buildup such as dirt or body oils and increases the overall sanitation of an area that can see communal use. It will also increase the life of your furniture creating a longer-lasting investment.
Most furniture can be cleaned with a simple soap and water mixture, but do review manufacturer recommendations for each type of piece. Avoid using harsh chemicals on any piece, especially as those chemicals could drain into and interact with the pool water. Take care to clean all the furniture top and underneath. For more information, please review our How to Clean Vinyl Strap Pool Deck and Patio Furniture article.
7. Convert to a Salt-Based Pool Water System

Keep people returning to your pool all summer by converting a chlorine-based water system to a salt-water system. Saltwater is gentler on the skin and eyes, which can make the swimming experience more comfortable for everyone. Plus, your staff or HOA volunteers won't have to deal with chlorine and other harsh chemicals, which can make pool maintenance safer.
8. Illuminate the Area With LEDs

Whether you keep the pool open on late summer nights or HOA residents like to throw cocktail parties poolside, lighting is important to safety. Plus, it lets everyone see each other, their food and any entertainment that might be planned.
Upgrade your pool lighting with LEDs for a modern, sophisticated look that's also extremely practical. LEDs last longer than many other types of bulbs and draw less power, reducing the long-term costs of lighting. Plus, they don't always get hot, so they can be safer for use in public areas.
9. Increase Visual Charm With Planters

By necessity, pool areas can seem like blights on the landscape. Concrete, tile and other materials go in, and dirt and plants come out. Carefully tending the greenery around the pool area or by adding commercial planters with lush green bushes and flowering shrubs can bring natural elements back to the area.
Planters also help create an inviting atmosphere within the pool area that adds color and help residents relax. You may also choose to decorate with festive shrubbery and lights during the holidays.
10. Encourage Community Gatherings

Once you take some steps to enhance your HOA community pool, encourage people to put it to use. Host gatherings and parties, such as a back-to-school or holiday shindig. Invite the community residents to sign up to use the pool space for their own events, or promote clubs and other social groups that can meet at the pool during good weather.
The right pool furniture and accessories can make a huge difference. Invest in them to create a truly inviting space people in and outside of your HOA community will be drawn to.